We are always excited and ready to tackle the next job. Rather you have professional drawings or something hand drawn on a piece of scratch paper. A large run of parts or 1 small piece give us a call and let us help you out.
We would love to hear from you!
Location
700 Sanden Blvd Wylie Tx 75098
HOURS
Mon-Thursday 7:30-4:30
Friday 7:30-2:00
Sat-Sun Closed
GET A FREE QUOTE
Reach out to us today and get a free quote on your next metal fabrication or manufacturing project.
Precision M/C Manufacturing, Inc.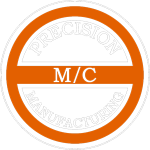 Precision M/C family owned and operated since 1976. Providing state of the art manufacturing capabilities including Fiber laser cutting, Precision turret punching, close tolerance forming, rolling, TIG welding, surface finishing, hardware installation, shipping, and packaging. No job to small or large give us a call and discuss your next project with us.
Mon-Thursday 7:30-4:30
Friday 7:30-2:00
Sat-Sun Closed
700 Sanden Blvd Wylie Tx 75098